'Learn English & Experience Ireland'
English Curriculum - English Language Programmes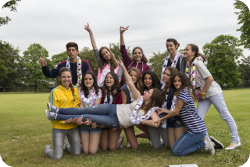 mackdonald language academy is a quality education provider of English language programmes for groups of students. Our school in Kilkenny and is recognised by the Department of Education as a year-round English schools for teaching English as a foreign language.
Our English curriculum is carefully designed to meet your group's needs and interests. We will design a specific study programmes to cater for your group's requirements including cultural, literature and business courses etc.
All mini-stay study programmes are tailor-made for your group.
Where students are entering International classes, each student is assessed upon arrival and placed into the appropriate English class. Upon completion of the mini-stay, all students receive a graded course certificate of attainment.
Levels & Focus Peak Season (international classes)
Classes range from elementary to advanced proficiency levels and all students are tested on arrival and placed in a class which best suits their level of English. The main focus of all our Group English Courses is on communication through spoken and written English.
Our highly qualified teachers set students clear learning objectives and use the best techniques to provide practice in speaking, writing, listening, reading and grammar for the English language.
Levels & Focus Mini-Stay (closed groups)
During the low season months (September to June) we offer mini-stays for closed groups of students. Here, students are tested and the most appropriate group level is assigned. The curriculum can specifically be designed to meet the group's needs and each student receives a certificate of attainment and exit report on completion of the mini-stay programme.
During the English lessons of your mini-stay you will

Engage in activities around communication

Develop and improve your ability to speak, listen, read and write in English

Emphasize on the use of authentic texts and materials to build your cultural awareness during their course

Be assessed on an on-going basis ensuring that you are always learning at a pace best suited to your needs
Professional English Teachers
Our teaching staff are all professionally qualified, with a primary degree and a recognised TEFL qualification (Teaching English as a Foreign Language). All teachers are experienced native English teachers. Our excellent student feedback attests to the quality of our teaching and the effort our teachers make to ensure that every student is motivated and progressing well in class.
Our teaching ethos is for lessons not only to be educational but also fun and entertaining, hence promoting learning in a relaxed and comfortable learning atmosphere. Our dedicated teachers offer excellent student support and supervision and are always available to help students and provide them with extra materials. On request we can offer individual lesson
s tailored to students' specific requirements.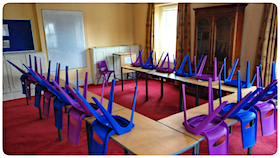 Mini-stay facilities in Kilkenny
Our classrooms are bright and spacious. Our classrooms hold a maximum of 15 students and all students have individual desks.
The school has a student common area with comfortable chairs and free high speed internet access.