Academic High School Programme 'Irish Experience'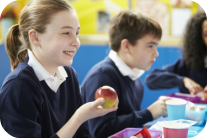 Our high school programme is available for international students aged 12 to 18 years. Students should have an Intermediate level of English (minimum requirement). It is possible to attend for varying durations: month, term or year.
We collaborate with several high schools in the Kilkenny area (City and County). Our educational consultants will be able to give you advice which high school is the right one for you.
Attending an Irish high school will allow you to further your education at undergraduate level in an Institute of Technology, University or any other third level education institution in Ireland and other countries.

Included services of our High School Programme:

Free consultation and advise

Selection of a suitable high school

School tuition fees in the selected high school

Local orientation upon arrival to Ireland

Assistance and support of our local coordinator

Contribution towards class text books and school uniform (included only for full academic stay)

Frequent academic reports for the parents at home

Free Irish SIM-Card for mobile phones (included only for full academic stay)

Emergency telephone contact 24/7

Airport transfers upon arrival and departure (assistance with other transfers)

Accommodation in a carefully selected host family (single room) / in a boarding school

Full board accommodation with breakfast, (packed) lunch and dinner every day

Short holiday breaks (up to 1 week) to be spent with the host family

A safe, welcoming & friendly environment

A successful & memorable time in Ireland
We endeavour to offer the best advice on programmes in accordance with the needs, preferences, and academic qualifications of prospective students. We pride ourselves on offering a highly personal and educational service and will help you during the entire process.
Please state your interest in our high school programme by sending us an enquiry via the contact form.