English Lessons for Adults Learners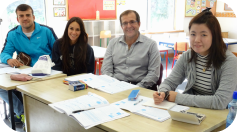 The emphasis is on small class sizes, thereby offering a high quality learning environment.
The maximum number of adult learners per class is 6. In our mini-group classes, the maximum number of students is 3.
From day one, we encourage our students that English is the only spoken language throughout the whole course - not only inside but also outside the classroom. All lessons are taught by native and highly qualified English teachers who all hold a minimum CELTA certificate in teaching English as a second language.
Students can choose between General classes with 20 lessons (15 hours) of English tuition and Internsive classes with 30 lessons (20 hours) of English tuition per week.
The English spoken in Kilkenny is accent-free and very easy to understand. Lessons take place in modern classrooms in a personal and relaxed atmosphere.
Language courses begin every Monday of the year for all language levels. English lessons are 45 minutes in length. In addition to small group and private instruction, we also offer combination courses. Please note, that classes can also be held in the afternoon during peak season.

---
In our English lessons you can expect to:

Practice speaking by exchanging ideas with people from other countries

Learn plenty of new words and expressions

Think about grammar, and practice speaking and writing more accurately

Practice and develop all your skills (reading, listening, speaking and writing)
---
| Additional lessons (45 minutes per class): | |
| --- | --- |
| Private English 1 on 1 (1 student/class) | € 40,- Euro |
| Intensive English 3 on 1 (max. 3 students/class) | € 30,- Euro |
| Special interest (e.g. Business English) | € 30,- Euro |
| Exam preparation (e.g. IELTS, TOEFL) | € 30,- Euro |