Modules - Learn, Live & Enjoy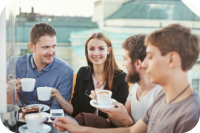 Adult learners can choose from different modules (A-D), whatever suits their interests and needs:
A) English tuition
Each week, English lessons are held in the morning from Monday to Friday. Please note, that classes can also be held in the afternoon during peak season. Students can choose from the following course options:
General English (20 lessons/week)

in groups of 6 students or
in mini-groups of 3 students.

Intensive English (30 lessons/week)

in groups of 6 students or
in mini-groups of 3 students.

B) Accommodation
Various accommodation options are available in our English school in Kilkenny:
Host family
B&B guest houses
Self-catering apartments

C) Free-time activity programme
Every week, the school offers various educational, cultural & social activities. All excursions and activities are organized and accompanied by a member of staff. Participation on all excursions, activities and trips is voluntary and at an extra cost.
Participating in the school´s excursions and trips will enhance your knowledge about Kilkenny, Dublin and Ireland as a whole. There are a wide variety of activities on offer including Irish dancing classes, city tours, cooking classes, and cultural and social outings. The school also organizes interesting excursions around Ireland, for example to the Irish coast in Waterford and Tramore, Dublin, Glendalough, and Cork, just to name a few.
The following free-time activities are offered on a regular basis (sample) - please note that we require a minimum number of participants for each activity:
Cooking classes
Movie nights
Irish dancing show and workshop
City Tours and excursions
Museums
Variety of sports (hurling, football, table tennis, Pitch & Putt etc.)
and more

D) Airport Transfers
If requested, adult learners are picked up upon arrival to Ireland and/or dropped off upon their return.

'Learn, Live & Enjoy' - English courses for adult learners
in our English language school in Kilkenny