Your First Days in Ireland
Regardless of the duration of your stay with us, the following is a sample schedule of events in our English Junior courses in Kilkenny.
Here is what happens upon your arrival to Ireland: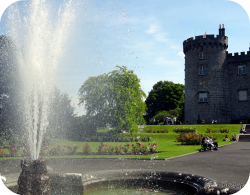 First Day
On arrival at Dublin International Airport, watch out for a big sign with your name on it. That's us! Once all students have arrived we will begin our journey to Kilkenny. The journey takes about 90 minutes by bus and you will be able to get to know and talk with some of your fellow students.
When we arrive in Kilkenny, you will meet your host family for the first time. You will spend the evening getting to know your host family and settling into your new home.
Second Day
After a good night's sleep and breakfast with your host family, you will receive your packed lunch for the day. Your host family will either walk with you or drive you to school.
There, you will meet all the other students and teachers.
Orientation begins with a brief induction meeting where we welcome all new students to our school. After a short break, all students will go to their assigned English classes, and your first lesson begins...
Third Day
Business as usual...