English for Adults Learners in Kilkenny
Programme Modules & more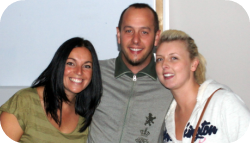 Our English school is located in the city centre of Kilkenny, only a 60 minute drive from the capital city, Dublin. The school is surrounded by all city amenities and has several bright, spacious classrooms that provide an excellent learning environment.
All classrooms are equipped with the latest technology to make the learning process as easy as possible.
Language courses begin every Monday of the year for all language levels.
There are many shops, restaurants and bars within walking distance of the school. The city centre is only a stones-throw away by foot.

Your English language course in Kilkenny with mackdonald language academy:

Travel information before your arrival to Kilkenny

Selected English lessons as booked

Accommodation as booked

Free-time activities as booked

Learning material

Course certificate

24h support

Kilkenny as an ideal place for your English studies