Waterford on the Irish coast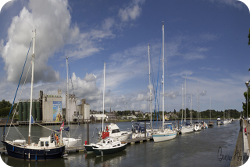 Our summer centre in Waterford is aimed at kids and teenagers (10-15 years), wishing to live with other international students in an on-campus dormitory and that want to play and train sports every day.
Our summer centre in Waterford is open for certain weeks during the summer. Please see our Dates & Prices for details.
Waterford, Ireland's oldest city, is seen as the economic capital of the South-East of Ireland. It is quite a large and picturesque city, close to the Irish Sea and built on the banks of the river Suir. The river Suir, which flows through Waterford City, has provided the basis for the city's long maritime history.
Waterford is known for 'Waterford Crystal', a legacy of the city's former glass making industry. Waterford consists of various cultural quarters, the oldest of which is known as 'The Viking Triangle'. This is the part of the city surrounded by the original 10th century fortifications, which is triangular in shape with its apex at Reginald's Tower.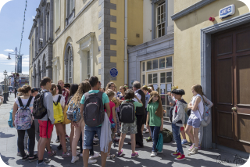 Though this was once the site of a thriving Viking city, the city centre
has shifted to the west over the years, and it is now a quiet and tranquil area, dominated by narrow streets, medieval architecture, and civic spaces filled with restaurants and shops.
'John Roberts Square'
is Waterford's modern day commercial centre.
New Ross near Waterford, is the home of the famous
'Dunbrody Famine Ship'
. Here, you will get a unique insight into a period of history which shaped modern day Ireland and America:
during times of starvation, many Irish people left their home country on this ship. They were forced to emigrate on sailing ships like the 'Dunbrody' to The Unites States of America and Canada in the 19th century.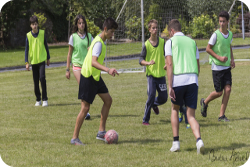 Tramore - a popular Irish sea-side resort is very close to Waterford and it is one of the most popular coastal destinations in the Southeast and Ireland. Here you can relax, swim and play sports on a wonderful three mile beach with thirty metre high sand dunes. Ideal for any outdoor activity and lots of fun!
Part of the seafront in Tramore is taken up by a 50 acre amusement park. It contains a series of rollercoasters, a miniature railway and a boating lake.
Our Waterford school is located in Newtown, Waterford. The school buildings are located approx. 10 minutes walking from the city centre, on the grounds of a prestigious boarding school.
On campus, there are excellent recreational and sport facilities, such as a heated indoor swimming pool, 2 hardcourt tennis courts, 3 huge football- and rugby pitches and a spacious indoor sports hall for even more sports and fun. There are numerous shopping and entertainment facilities beside our campus.
The school address is: Newtown School, Newtown Road, Waterford City.

Our summer centre in Waterford - an ideal place to learn English,
live with other international students in an on-campus dormitory and play a lot of sports.
Here is what a typical week in Waterford looks like: