Student Residences in Our Summer Centre in Dublin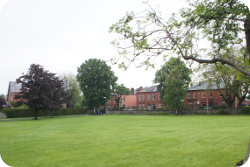 In our school location in Dublin, we offer the highest standards in residential accommodation. Our on-campus residence provides the latest in "student village" style accommodation with onsite classrooms, dining hall, sports and recreational facilities.
The residential centre offers full-board accommodation. The school provides three meals each day in the on-campus college restaurant. All meals are provided on the campus and consist of: breakfast, hot lunch (alternatively: packed lunch on weekends and on full-day trips) and hot evening dinner. There are menu options each day: lunch and dinner comprise of two courses. A vegetarian option is available for every meal.
The residences provide apartment style accommodation: each apartment has a kitchen, living area, four single bedrooms and 2 bathrooms. The rooms are equipped with a study area and all essential living accommodation facilities for example a cupboard and a bed. Wireless internet (password protected) is available on site.
Boys and girls are housed in different apartments.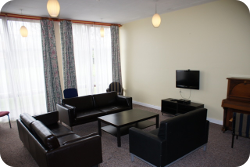 The reception desk is staffed 24 hours a day and there will always be a teacher on duty in the residence.
All rooms and common areas are thoroughly cleaned once per week with a change of bed sheets and pillow cases. Bathroom facilities are cleaned every 2/3 days.
A hand towel is provided to each student on arrival to be changed weekly. A laundry service is available.