Kilkenny & Ireland
What better place is there to learn English than in Ireland?
A country that is renowned for the warmth and friendliness of its people, the stunning natural beauty of its landscapes and coasts and the richness of its music, theatre and literary traditions.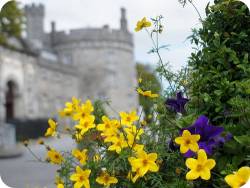 The Irish people are very friendly and eager to talk to foreign visitors.
Visitors are warmly welcomed and find it very easy to relax and talk to people. Traditional music and dance are widely enjoyed, and the art of conversation is respected by young and old.
Many people say that the best English is spoken in Ireland.
Ireland is noted for being the land of "Saints and Scholars". Ireland has produced some of the greatest writers in the English Language. Famous writers include Oscar Wilde, James Joyce, WB Yeats and Seamus Heaney, all of whom have influenced Ireland's language and culture, and with the Irish being famous for the art of conversation…. it is easy to understand why.
Ireland is a European country where modern meets traditional - it still treasures its strong cultural and historical traditions. Ireland is a safe, uncrowded country with clean waters and clean air.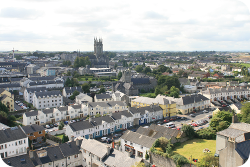 Ireland in general and Kilkenny in particular provides an ideal location for a wide variety of outdoor sports and pastimes, among them, playing football, horse-riding, boating, golf and hurling.
All these factors combined make Ireland a perfect place to study English and to have a memorable time.
mackdonald language academy is located in Kilkenny - a beautiful medieval city, sitting snug on the banks of the River Nore in the sunny South East of Ireland. It is acclaimed internationally as a centre for craft and design and is host every year to a number of major events including the Kilkenny Arts Festival and the Cat Laughs Comedy Festival.
The city was named after a 6th century monk, St. Canice, whose memory lives on in the beautifully restored St. Canice's Cathedral. Another landmark building is the magnificent Kilkenny Castle, built by the Normans during the 12th century.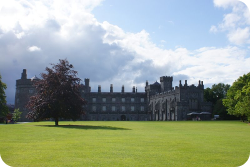 Beautifully restored buildings such as these sit comfortably alongside contemporary shops, design galleries and restaurants in compact streets, making Kilkenny small enough to explore and enjoy on foot. Yet, all modern conveniences of a medium-sized city like cinemas, entertainment and shopping facilities can be found in Kilkenny as well.
The personal touch of the city helps make our school special. Join us and we guarantee you a very warm welcome.
Kilkenny is approx. 60 minutes from Dublin and around 90 minutes from Cork and Rosslare Harbour. Known as the creative heart of Ireland, Kilkenny City is conveniently located close to major airports and ferry ports.